MENA's biggest business driven PV and CSP event!
Simply fill in your details to the right to get the latest brochure sent straight to your inbox!
Get the full C-Level speaker line-up
Access the very latest discount codes and group rates
Find out how to maximize ROI from the event by taking one of the few remaining sponsorship or exhibition spaces
These top executives and more have already signed up, don't delay!




MENASOL (25-26 May), Dubai is the event you need to be at to secure a successful 2016/17 commercial pipeline. The event brings senior executives from all over the globe but most importantly brings the key influencers, government officials, C-Level executives from developers and EPCs from the key MENA region.
Fill in your details to the right for the full brochure delivered for free straight to your inbox >>>
Why attend?
600+ peers and colleagues within your network so you can discuss and share ideas with the best minds in solar
60+ leading stakeholders presenting: including C-Level, VP and Director level experts from the renewable, legal and finance industry along with high level government representatives to share their knowledge so you can operate with success in MENA
20+ hours of dedicated networking including an awards ceremony, so you can connect with the movers and shakers of the solar world and collectively celebrate achievements
A plenary session 3 parallel technology tracks: Dedicated PV, CSP and wind tracks that will enable you to focus in your area of interest and expertise through case studies and focused sessions
If you have any questions at all about the meeting, don't hesitate to get in touch with me!
See you in Dubai.
Kind regards,
Octavio
Octavio Murekian
Global Project Director

CSP Today/PV-Insider
T. +44 (0) 20 7422 4305 (UK office)
E.

octavio@pv-insider.com
PV Insider is a division of FCBI Energy Ltd. Registered in England and Wales no.09823824. Registered address 7-9 Fashion Street, London, E1 6PX, UK

| Terms and conditions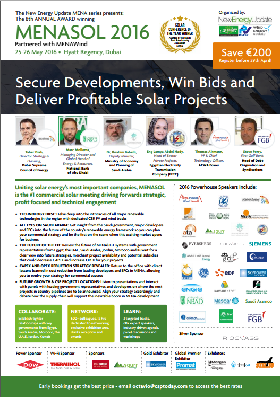 Get your brochure now!
Fill out the form to have it delivered free to your inbox